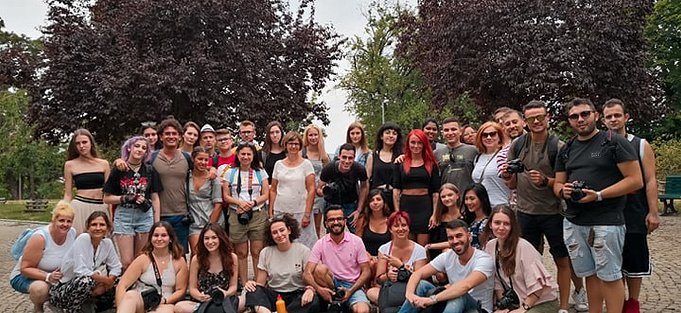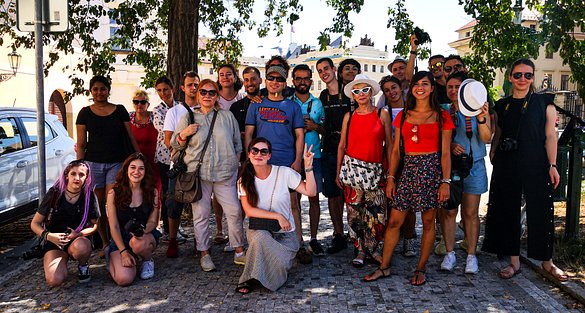 "One edition more, one new destination, meeting new wonderful people from different parts of the world. All our family are glad for participating in this edition in Prague. We have brought with us all your smiles and our nice time together!! We are proud to be part of LetmeItalianYou family and this project. I hope see you soon, our dear friends!!"
Maisse from Spain (Discover Prague I)
"I was lucky to make a pretty experiment with a nice team. I had the opportunity to make nice meetings and exchange around my profession with other nationalities. A beautiful organization for people who wish to travel and discover the world of photography. Thanks to the Twins to enable us to live this adventure."
Romane from France (Discover Prague I)
"It was an amazing trip in every aspect. I learned a lot about photography and I had the chance to practice my new skills in a very efficient way. ", Alladin said.
What our participants said about their experiences in Discover Prague
"Discover Prague è stato il mio primo progetto con @letmeitalianyou. All'inizio ero un po' spaventata, era il mio primo viaggio da sola, non conoscevo nè la città e nè gli altri ragazzi. Ma in quei cinque giorni ho fatto amicizia con persone meravigliose, diverse tra di loro ma uniti con la stessa passione. Scambiare le nostre conoscenze ed esperienze mi ha arricchito davvero molto. Non avrei mai pensato di trovarmi in sintonia con tutti e soprattutto di riuscire a creare un rapporto cosi stretto in poco tempo. È stata anche un'esperienza molto formativa, grazie ai tre workshop tenuti da fotografe professioniste e disponibili. Vorrei spendere anche delle parole per ringraziare davvero tanto i Twins migliori di tutti, Massimiliano e Gabriele, due ragazzi fantastici, sempre gentili e disponibili con tutti. Beh che dire poi, la città di Praga mi ha davvero colpita, così piena di paesaggi, monumenti, cultura e storia. Ringrazio davvero tutti per aver reso questo progetto unico e indimenticabile!"
Ermira from Italy (Discover Prague I)
"Discover Prague was my first trip with Let Me Italian You! It was an amazing trip in every aspect. I learned a lot about photography and I had the chance to practice my new skills in a very efficient way. I have met a lot of lovely people and I made great new friends. The organization of the trip was very good, the information was clear and precise. I enjoyed the whole trip and definetly I will go again with them!"
Aladdin from Palestine (Discover Prague I)
"A special thanks to Let me Italian you that made all of this possible! I met almost 100 friends from all over the world in less than 2 years. You guys are really our magic twins!"
Vanessa from Italy (Discover Prague I)
"This was my second experience with Let me italian you after the Krakow workshop. it was a great experience with a new group of people, thanks to which I was able to establish a friendship, putting my photographic skills to the test at the same time. Excellent organization of activities in a beautiful city. I highly recommend trying this kind of experience."
Alessandro from Italy (Discover Prague I)
"Hello! This discover Prague with Twins was my second experience with them and my first travel alone. not only did I go to discover a city I did not know, but I met people who share my same passion and with whom I formed a friendship. it is a story, a project to grow, to discover a piece of life that you did not know. everything was very well organized, and above all it gave me a new impulse from a photographic and creative point of view!"
Maria Grazia from Italy (Discover Prague I)
"Thank you Massimiliano and Gabriele for everything you do! It was my sixth project with Let me Italian you - Sicily, Budapest, Lisbon, Marrakech, Prague. So many memories, new ideas exchanged during photography workshops, so many new wonderful friends. I want to thank you for professionalism, culture and helpfulness, efficient organization and interesting program, every single time. I am pleased to recommend Let me italian you."
Ludmila from Poland (Discover Prague I)
"Dear Massi and Gabriele, you came up with a wonderful project! It allows to discover new places and, most importantly, meet new people. We had a great friendly group in Prague, easy-going, diversified and interesting . I gained new experience and skills in photography, applicable and useful. I am looking forward to join you again and would like to wish "Let me Italian" further successful development in this direction!"
Irina from Estonia (Discover Prague I)
"Discover Prague is the first ever photography workshop I ever took part in. Hence I was nervous as much as I was excited. But I was welcomed by a bunch of warm-hearted, funny people that my nervousness went away within a couple of hours of being in Prague. This was a unique opportunity to combine my passion for traveling, photography and meeting new people. I would like to thank Massi and Gabriele for coming up with such a great idea and putting it into reality. I will really try to be a part of the upcoming Discover projects and be connected to the Let me Italian family."
Thapasya from India (Discover Prague I)
"Recently, I participated in the photography workshop DISCOVER PRAGUE organized by the Italian twins Gabriele and Massimiliano. One good aspect of the schedule, which I appreciated a lot was that there was provided enough resting time between noon and evening activities, the latter being various photography workshops. Therefore I had time to go back to my hotel and rest in between, and start the evening with fresh energy fully recovered from the exhaustion and slight headache that I felt by the end of the city tours. Though I must say some of us chose to stay in the town and explore it further during these breaks. What can I say? Hats off to them! Indeed, they had good reasons to do that, something that I would also do if not for the excessive heat. In this city it feels like every stone, every m 2 is precious and of historical/cultural importance. During my walks, if given enough time, I could gaze in awe at every single building full of enchantment. We had four different photography events: food photography, portrait photography, urban photography and photo shooting with models. The first three were conducted under the guidance of instructors. I'm a newbie into photography and hence was devouring everything they were saying trying to gather as much useful information as I could. One more thing that bears mentioning here in this regard is that although our group was international with various countries being represented – France, Poland, Estonia, Spain, Sweden and Germany (yours truly) the overwhelming majority, as would be expected, were Italians. I can speak only for myself in this case, and to their credit I have to say I never felt alienated in their presence. Although it is tempting to speak your native language with your compatriots, especially when you represent the majority in a group (we are all humans after all), for the most part the Italians (and others for that matter) spoke English in my presence. And in those rare moments when someone switched to their native tongue they were quick enough to revert back to English. Furthermore, Gabriele and Massimiliano were assiduous to keep English as the main medium of communication. So, kudos to their and my fellow travelers' tactfulness and professionalism. Finally, I would be remiss not to mention the organizational part before I conclude. As someone who has been settled in Germany for more than a decade I can definitely state that everything was organized very well; to be clear, even for German standards! During the project everything flowed smoothly without any hiccups, there was absolutely no trace of delay or chaos and all the plans were met. Again praise goes to the organizers and the fellow participants for making this a pleasant and unforgettable experience. In conclusion, to anyone interested in travel, photography, exploring new places and meeting new people I would certainly recommend participating in at least one such project organized by "Let Me Italian You" (preferably more). From my side, it left me exclusively with great impressions and fond memories. In the future, I will definitely be participating in other such events organized by the Italian twins when the opportunity presents itself again."
Cemil from Azerbaijan (Discover Prague I)