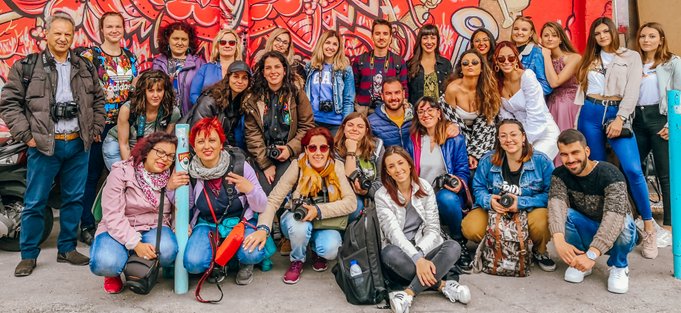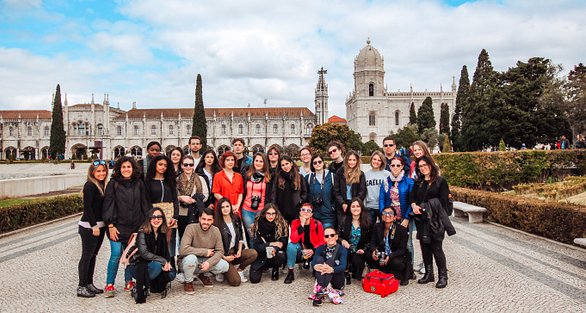 "When the project was proposed, I was not very convinced, but I was curious to do/try something different...and now I am really happy to have said "YES"! It is an indescribable experience, one of that experience you take with you for the rest of your life and you'd suggest to everyone. I've met many special people that I hope to see again soon and I've had the opportunity to talk with people who share my same interests and I'd go back I'd do this experience other 1000 times!"
Federica from Italy (Discover Lisbon I)
"When I left to Lisbon and for this project at the beginning I was a bit skeptical, I must admit. Mostly I decided to join only to see the city, I expected nothing more. Moreover I had always big problems in working or staying in a group...so my mood was like this...instead this project was AMAZING! I learnt so many new things both about photography and about myself as a person. I understood what I like doing and what not, where I have more talent and also where I'd like to go. Then I found a close group of fantastic people and each of them gave me something different. Thanks Gabriele and Massimiliano for the organization and for the great idea to give these experience to people! A big thanks goes also to the wonderful girls with who I share the room in these last days!"
Andrea from Argentina (Discover Lisbon I)
"One of the best experiences of my life. if you're looking to explore a city and improve your photography skills I would say go for it with letmeitalianyou ", Amulya said.
What our participants said about their experiences in Discover Lisbon
"When I was in Krakow with them, we were talking about the new destinations and kidding I said "why not Portugal?". Few months later they reached me with Lisbon and I could not say no". This trip, as the previous ones, was amazing! Great adventures, a fantastic experience that allowed me to discover a new city, new people and met old friends. I was ready to walk but this time I was not prepared ahahah but once again it was worth it! Thanks again for this amazing experience and for giving me the opportunity to see a new city! Thanks to all my travelmates and especially to the room 302!"
Martina from Italy (Discover Lisbon I)
"Another trip, another marvelous place explored with Let me Italian you. I gained a lot of memories, new ideas and met new amazing friends. It was my 4th project with You Guys, thank you very much Gabri and Massi for this great experience in Lisbon.
I hope, see you soon! See you in another adventure! A presto!
Ludmila from Poland (Discover Lisbon I)
"Credo molto al destino e poco ai pensieri condivisi, specialmente se ciò avviene all'interno dei social network. Ma questa volta mi sento talmente piena di allegria (e allergia) che sto esondando, e non riesco a trattenermi. Sono certa che ogni persona entra nella vita di ognuno di noi per un motivo, e la strada che sto percorrendo mi ha fatto incontrare, lungo il cammino, i personaggi più difficili da trovare nella vita di ogni giorno: i compagni di viaggio. Dalla prima volta che ci siamo incontrati è passato quasi un anno, e ringrazio quel periodo buio che l'anno scorso mi ha trasportato a Budapest e mi ha fatto conoscere questi straordinari esseri umani. La mia gioia nasce dal fatto che ogni volta che li incontro, sembra non essere passato neanche un secondo dall'ultimo. Condividere con la mia famiglia viaggiatrice le fortune e le sfortune che una nuova avventura può portare, mi conferma il fatto che sono circondata da persone uniche, coraggiose e piene di energie. Come non ringraziare di tutto questo ognuno di voi, compresi Antonello e Giada , Gabriele, Massimiliano e Divia. Alla prossima avventura!"
Cecilia from Italy (Discover Lisbon I)
"My short memory take me to show always what I see, what I eat, the street where I walk in and the people I meet. If you would like to challenge yourself, alone or with a friend, a luggage in one hand and a camera in the other one, looking for new faces and experiences, Gabriele and Massimiliano are an excellent starting point! See you at the next adventure!"
Alessandra from Italy (Discover Lisbon I)
"Ho 43 anni e mi confronto spesso con ragazze più giovani di me soprattutto per la mia passione fotografica. Il viaggio a Lisbona mi ha dato un'altra opportunità per conoscerne meglio alcune , il carattere, l'esperienza e la famiglia di ognuna di loro ne ha temprato l'essenza. La loro energia, la voglia di conoscenza, l'autonomia e la responsabilità trapelata mi hanno ridato speranza verso la nuova generazione. È proprio vero che chi torna da un viaggio non è mai la stessa persona che era partita. In bocca al lupo alle mie guerriere e non smettete mai di sognare, Cecilia, Martina, Divia!
Alla prossima avventura!
Guendalina from Italy (Discover Lisbon I)
"I have only positive things to say about Discover Lisbon. First of all it doesn't matter that you're a professional photographer: the most important thing is to be passionated about photography and have the will to learn. Before to leave I was really worried about the two shootings in agenda, an unknow area for me: I've jumped on it and the result wasn't unexpected! I had so much fun and I challenged myself, in an atmosphere free of judgements or expectations! Another proble: I am an introvert person and the idea to live 4 days with unknow people didn't make me calm...instead I felt myself very good, I met super interesting and nice people! The organizers are super available and competent, the activities in agenda are very interesting and instructive! Discover Lisbon has been something unexpected and I can't wait to repeat this experience! Hyper recommended!"
Annalisa from Italy (Discover Lisbon I)
"Eventually everything comes to an end, and what stays with you are the memories. Thank you again for these days Gabriele and Massimiliano, even though we were unlucky with the weather (I swear this weather is not normal in Portugal!!). Thanks also to the other participants, I had the chance to see some old faces and meet new ones, i definitely leave Lisbon with a warm heart. See you in another adventure! A presto!
Andreia from Portugal (Discover Lisbon I)
"Discover Lisbon was my first time with Let me Italian you and it was a very educational experience and the organizers are really kind!"
Alice from Italy (Discover Lisbon I)
"Let me Italian you showed me a new way to travel: I left my home with the will to learn something new and it was like that! My expectations has been fulfilled greatly! Discover Lisbon has been one of the most beautiful experience that I've ever don and I can't wait to leave again next to amazing people and the organizers for a new adventure! See you soon!
Giorgia from Italy (Discover Lisbon I)
"Une aventure exceptionnelle avec des personnes formidables. Massi et Gabri sont incroyables, toujours attentifs et attentionnés avec chacun. Les workshops sont coordonnés par des professionnels bienveillants, toujours prets à donner des conseils aux amateurs que nous sommes. Ces 4 jours à Lisbonne resterons à jamais dans ma mémoire et j ai hâte du prochain projet! Mille merci les Twins."
Evelyne from Switzerland (Discover Lisbon III)
"I recommend to everyone who love traveling and taking photos to participates to the Discover projects organized by Let me Italian you. I came back few days ago from Lisbon and I am extremely happy to have give to myself this opportunity. The photography workshops are lead by professional photographers, well prepared and kind, and we had also time to discover the city! In addition to the lessons learned, what I will forever remember are the relations born among the participants, it seems that we had known each other from long time! A special thanks to the excellent organizzation of Gabriele and Massimiliano!"
Daniela from Italy (Discover Lisbon III)
"The best way to explore different cities and improve your photography skills. The twins have done a massive job to offer us some great workshops with awesome photographers, and guided tours to the most popular places but also to the hidden places. In addition, you meet so many awesome people during the projects, starting with the twins who are just two amazing persons. This is a project you just have to go through! If you do it once, I'm sure you want to do more. Just go for it!"
Gertrud from Estonia (Discover Lisbon III)
"To not doing the same workshop and the same trip...to combaine the two passions and amazing people...
fantastic experience!"
Luca from Italy (Discover Lisbon III)
"Quando sono stata invitata a partecipare al progetto di Barcellona, sono stata lusingata perché le mie foto hanno avuto il loro effetto, cosi un anno fà quando iniziò la mia avventura com Let me Italian you. Sono entrata in punta di piedi, ma già dal primo impatto è stato positivo. Al secondo progetto Discover Lisbona ho avuto la conferma, un esperienza fantastica, ho conosciuto persone meravigliose che mi porterò sempre nel cuore, un gruppo affiatato provenienti da diversi paesi europei e non, visitare nuove città, culture diverse, spesso affini alla nostra, non può che arrichirti su tutti i fronti, per chi ama la fotografia come me, è stato un aprirsi ad un nuovo mondo, con spunti, prospettive ad incrementare la mia creatività, per non parlare dei workshop e shooting, il tutto organizzato alla perfezione dai gemelli, Gabriele e Massimiliano, professionalità, gentilezza e simpatia i loro punti forti. A loro il mio grazie mille di cuore per avermi dato questa opportunità, mi sento ogni volta più ricca su tutti i fronti, un incentivo all'ottimismo alla mia autostima, che mi sono sempre mancati. Grazie Mille Gemelli."
Silvia from Italy (Discover Lisbon III)
"Fantastic experience! If you love photography and travels, you have to join one of the Discover projects! The organizers are always very kind and efficient! I can't wait to participate in the next Discover!"
Giada from Italy (Discover Lisbon III)
"I've joined twins for 2 discovery in the row (Copenhagen and Lisbon III) and I need to admit that both of them were amazing experiences! I've met passionate people, explore 2 amazing cities and I've noticed that with each and every day I was taking better pictures. If you need time away from your normal life and hang out with positive people, attend photography workshop, improve your skills, need some inspiration and want to have fun doing all of that - discovery with Let me Italian you is what you need!
Massi and Gabri - thank you for making it happened!"
Monika from Poland (Discover Lisbon III)
"Let me Italian you: young people who have found a path, not easy, but with so much satisfaction: they persevered and grew up. #discoverLisbon, a new project in which I participated, now in its third edition, lots of emotions, lots of laughs, lots of words, lots of pictures, lots of new eyes, lots of clicks with different accents. Five have now passed, but the desire to continue and restart is still great.
Ready for a new adventure!"
Eleana from Italy (Discover Lisbon III)
"Discover Lisbon III is my 5th Discover with Let me Italian you. As the previous ones, also this Discover makes me really enthusiast for the high level of the workshops and guided tours: super amazing were the lessons by Octavio Alcantara (really great one) at IADE and Nuno Patrico who let us walking for almost one hour around different local and typical streets to lead his workshop where the essence of his workshop were born. Also the conception of the time is very original, there is time for everything: learning, walking, discover the city, having fun, making new friends, resting and so on. To everyone is guaranteed the strong emotion of the moment when you have to go back home, a clear sign that something is changed on you. Gabriele and Massimiliano are the ones who make this possible: they take care of every participant, one by one, and they are careful to every organizational aspects. They are the one who collect all the final photos, they publish them and give them visibility. I don't speak very well English but they are always kind to translate for me. Ciao amici e arrivederci presto."
Pasquale from Italy (Discover Lisbon III)
"Taking part in this project was the best choice!
I'm very happy for all I have learned, for the beautiful city that I could discover, but especially for the wonderful people who accompanied me during this adventure."
Alessandra from Italy (Discover Lisbon III)
"I would like to thank you because traveling with you is always amazing and I agree with Yan Pekar when he says that you have created a "new drug" because every time I go back home after a Discover project, I would love to book immediately another one. Also this time in Lisbon everything was perfect: the atmosphere that you are able to create is fantastic; these are days where I am really calm and happy to live this experience. At this point I joined your project totally relaxed even I do know anyone because I know that you will be there and everything will be fine and I will have great time! I am surprised that you organized Discover Lisbon during your birthday. It is incredible the passion that you have for what you do and that's why you are able to do amazing things!"
Chiara from Italy (Discover Lisbon II)
"This is the first year for me with Let me Italian you. I took part in the project Discover Lisbon II and what can I say? It's been a great experience! The best way to travel and visit beautiful countries for all over the world in a very good and well organized way and, in the same time, share your photography passion with a lot of nice people from different nationality and, lastly but not leastly, make a good friendships. Also, the twins are so nice! You should meet them. In short words, I recommend you Let me Italian you, you should take part at least in one of their projects and, I promise, you won't regret it!"
Marta from Italy (Discover Lisbon II)
"Thank you twins for the invitation to take part in the project Discover Lisbon II. It was a very interesting experience. I met with interesting people from different countries and with magnificent Lisbon! See you!"
Tetiana from Italy (Discover Lisbon II)
"Fantastic people, great team and awesome things to do!
What do you need more? Love this project!"
Magdalena from Poland (Discover Lisbon II)
"I participated to Discover Lisbon II project and it was a super experience, with people I didn't know before but with whom I got along easily, ending up having a lot of fun together! Massi and Gabri are super nice and careful about details, it was a real pleasure to get to know them."
Giorgia from Italy (Discover Lisbon II)
"I have participated at Discover Lisbon II and It was a beautiful experience with wonderfoul people. I recommend everyone to participate at these projects. Thank you twins, I had an amazing time!"
Alessandra from Italy (Discover Lisbon II)
"Before to make the review of this trip, I want to deeply thank the organizers of Discover Lisbon, Gabri and Massi that have done a lot to have me in one of their projects. And finally in the 4th edition of Lisbon I was able to participate! What I can say: a fantastic and formative experience that I'd absolutely advice to everyone to participate at least once in life. Photographers, amateurs and friends have made this trip unforgettable. This experience allowed me to meet people of different age with who share this big passion for photography, improving together our photography knowledge and skills, and also each Discover is always a fantastic opportunity to make groups and have fun, making new friends and meet people from all over the world. It has been four short but intensive days, fascinating and very interesting! A special thanks to the photographers Onesimo and Nuno for their workshops and for helping us in improving our photography techniques and to our models without who I could not realized such amazing shots! See you in the next Discover, guys!"
Jessica from Italy (Discover Lisbon IV)
"Thanks Gabri and Massi for having confirmed professionalism, patience and kindness. I will be back as soon as possible.
Me too, I am fully addicted of Discover projects now!"
Roberta from Italy (Discover Lisbon IV)
"Un'esperienza troppo troppo bella, che consiglio a tutti di fare almeno una volta nella vita. La mia è stata la prima, in Discover Lisbon, e sicuramente non l'ultima. Ho trovato un gruppo fantastico di persone e di nuovi amici da cui ho imparato molto e con cui ho condiviso risate e momenti fantastici. Workshop e shooting molto interessanti, in cui ho messo alla prova me stessa e in cui la mia passione per la fotografia mi ha travolto. Sono tornata a casa piena, e con la voglia di migliorare sempre di più e di partire ancora con loro!!! Persone che ti entrano nel cuore. Grazie Massimiliano e Gabriele. Ci vediamo presto!
Più ci rifletto e più dico quanto sia stata un'esperienza bellissima.
Let me Italian you regalate emozioni pure!"
Letizia from Italy (Discover Lisbon IV)
"One year after my first Discover Project, I had the chance to meet Ugo and Yuu again. This is the magic of Let me Italian you Family: photography, friends, friendship, traveling, discover new places, adventure. I will do it all over again in a new Discover Project. Gabri and Massi, miss you already, and I'm looking forward to next adventure."
Alexandra from Portugal (Discover Lisbon IV)
"Thank you so much for the words, i love to be with you as well and I love your personality, it is everything so easy with you! I hope we see us soon again...Barcelona I think it will be not possible this time but I was looking Copenhagen and I found it very interesting also!"
Alexandra from Portugal (Discover Lisbon IV)
"I was a participant in the Lisbon edition. Experience to do absolutely especially if you love photography and to meet new people with your same passion. The workshops were very interesting and engaging; a journey that in just four days made me know and experiment with new photography techniques, making me know a city I had never visited before. Excellent organization: every day we were engaged in new and fun activities. Journey that opens the mind. Recommended!"
Elia from Italy (Discover Lisbon IV)
"Once again thanks for another fantastic Discover, it is amazing discovering new cities with you and learning more about photography! Everytime is like the first one! And it is true, even if we haven't met for almost two years, when we met again at the hostel it seems that only few days were passed and it is incredible how these day has gone so fast also this time.
I can't wait to see you again! I love you twins!"
"Ormai chi mi segue da un po' sa quanto io adori questi progetti, scoprire con loro una nuova città è sempre fantastico! E non a caso, quello di Lisbona è stato il mio quinto progetto. Per motivi vari, erano quasi due anni che non ripartivo con loro, da Discover Marrakech a gennaio 2018. Ma quando sono arrivata a Lisbona e ho rivisto Massi e Gabri è come se fosse passa solo qualche settimana. Ormai è come essere in famiglia! E come ogni esperienza, anche questa volta ho scoperto una città bellissima, ho conosciuto persone nuove e ho scattato un sacco di foto. @letmeitalianyou è sempre una garanzia! Quindi grazie twins, per questo Discover, per quelli a cui ho partecipato e grazie in anticipo per tutti quelli che verranno, perché sicuramente ce ne saranno tanti altri! Siete speciali!"
Samantha from Italy (Discover Lisbon IV)
"I had a great time taking part of Discover Lisbon 4, I met beautiful people, seen amazing places and attended very interesting and useful workshops. I recommend to everyone this experience. I want deeply thank you for this opportunity, it was so intensive and emotional. I go back full of amazing memories, friend and improved photography skills. I am really happy that I have met you, I will follow you everytime I can.
Thanks Massimiliano and Gabriele, we need more people like you in the world!"
Marta from Italy (Discover Lisbon IV)
"I really enjoyed the experience with Let me Italian you and I advice to all the people that love travelling and photographing to take part in almost one of the projects that they organise."
Giulia from Italy (Discover Lisbon III)
"Discover Lisbon III was the first project by Let Me Italian You that I took part and it was an amazing experience. Gabri and Massi provided us with a great variety of activities, including great guided tours, workshops with interesting photographers and shooting with models. I recomend the photography projects by Let Me Italian You to both professionals and amateurs."
Anna from Poland (Discover Lisbon III)
"One of the best experiences of my life. if you're looking to explore a city and improve your photography skills I would say go for it with letmeitalianyou. They have different photography workshops everyday at the best locations and will let you explore and capture the places you visit in your style. The twins are the sweetest people I've met and are doing a great job at organising these events. I met a batch of talented people and made friends from different countries. Guys just go for it and you will not regret!"
Amulya from India (Discover Lisbon III)
"Absolutely incredible photography course that gives you knowledge in photography while you're having fun.
The twins really do Italian you wherever you go.
Grazie mille per tutto!"
Ksenia from Russia (Discover Lisbon III)
"I had an incredible experience with Let me italian you during the project Discover Lisbon Christmas Edition. Gabriele and Massimiliano are very special guys and they have create an amazing possibility which everyone should take at least one time. With them projects you can learn about photography meeting professionals photographers, make ideas exchange with other internationals guys with your same passions. And when the project will finish, I assure that you'll want to repeat another immediately!
I'm really greatfull for mine experience!"
Giulia from Italy (Discover Lisbon IV)
"Hi guys, i not jet spend words to tell something about this wonderfull experience. It was fantastic, and i'm very happy to meet a lot of good passionate photographers, people and friends to share opinions, moments and all. Special thanks to our kind twins that provide us everything we need.
See you in the next Discover."
Valerio from Italy (Discover Lisbon IV)
"On my way home from a fantastic few days with the group on the Let me Italian you photography workshop. Saw parts of Lisbon I would never have discovered on my own. Walked further than I thought possible in one day. Met some wonderful people from many different countries most of whom were decades younger than me. Worked with beautiful photographic models in an exciting urban setting and are returning with hundreds of photographs and I hope friendships. Can't wait for the next one in a new city."
Marilyn from UK (Discover Lisbon IV)
"Non sono io nella foto. L'ho scattata. E quello è stato un momento particolare, forse una semplice foto per tutti ma non per me. In quell'istante si sono connessi tutti e 5 i sensi e forse qualcuno di più. In quell'istante e in quella composizione, restando in tema foto, mi sono fermata e mi sono disconnessa per alcuni istanti da ciò che mi circondava, quei momenti in cui ti trovi a dialogare con te stessa, a riflettere. E quello è stato il momento dove mi sono vista e sentita i brividi sulla pelle, realizzando che io ero lì, in quel luogo, con persone fantastiche che conoscevo da pochissime ore, partita da sola, un viaggio iniziato con una mail in cui mi sono, dopo dubbi e incertezze iniziali, lanciata con tutte le scarpe. Un momento particolare, dei giorni importanti, non solo bellissimi. Persone che mi hanno lasciato un pezzetto di sé, tutte. Tra risate e pastel de nata e momenti di puro divertimento e risate, spensieratezza, come se ci conoscessimo chissà da quanto. Un'esperienza che consiglio e auguro di fare a tutti almeno una volta, sicuramente questa esperienza che grazie a Massi e Gabri in veste @letmeitalianyou hanno creato un qualcosa di davvero bello. Un pacchetto di divertimento, crescita personale per chi, come me, non aveva mai vissuto un'esperienza simile. Creatività che esce in tutti i modi, la loro gentilezza e simpatia e dovrei fare una lista di descrizioni ma solitamente le parole limitano le sensazioni e forse nessuna parola riuscirebbe a spiegare bene tutte quelle provate lì, che poi ti porti dentro per sempre. A distanza di 10 giorni ormai so che queste sensazioni non andranno via. Certe esperienze ti cambiano, davvero.
Solo una parola, Grazie @letmeitalianyou"
Letizia from Italy (Discover Lisbon IV)
"I had the honor to partecipate in the project Discover Lisbon 4 Christmas edition and it was a fantastic and amazing experience. Twins are super, they organized very well workshop and city tour. It's a great opportunity to meet new people and enhance your photography skills thanks to all professional photographers that teach us new things. I'm sure that I will join another project soon. A big thanks to the Twins that gave me this opportunity."
Elena from Italy (Discover Lisbon IV)
"Era fine agosto. Mi arriva una mail da un'agenzia che non conoscevo in cui mi viene chiesto di partecipare a questo progetto fotografico: "Discover Lisbon Christmas Edition". Io incredula, un po' titubante mi informo meglio per capire di cosa si trattasse: sarei dovuta partire da sola in una città per me del tutto nuova, e lì avrei avuto modo di conoscere persone mai viste prima d'allora. Inutile dire che l'idea mi entusiasmava non poco, ma al tempo stesso il pensiero di non conoscere nessuno mi lasciava un po' perplessa. Ci penso un po'. Primi di settembre. Decido di lanciarmi letteralmente in questa nuova avventura, dove sapevo che la mia reflex sarebbe stata la mia unica amica e compagna di viaggio. I mesi di attesa sono stati pieni di emozioni e agitazione, fino a poche ore prima della partenza. All'aeroporto incontro altri ragazzi che non conoscevo ma che sarebbero partiti con me da Roma. C'è stata da subito una splendida intesa, e una volta atterrati già mi sembrava di conoscerli da tempo. Arrivati a Lisbona, ho conosciuto anche gli altri ragazzi che avrebbero partecipato al progetto, provenienti da altre parti d'Italia e d'Europa. Che emozione, tutti lì con la stessa passione, chi più chi meno professionale (io ovviamente ero tra le più zappette), ma tutti accompagnati dalla propria fedele camera e con il desiderio di condividere e di imparare. Corsi tenuti da professionisti dell'Università Europia, spostamenti in su e in giù per tutta la città, cibi, usanze e tradizioni spettacolari. Ho lasciato chissà dove tutte le mie paure e ho deciso di vivermi a pieno questa fantastica avventura. Per tutto questo non finirò mai di ringraziare Let me Italian you per avermi contattata e avermi permesso di vivere questa esperienza indimenticabile. Workshop and Shooting are been amazing and I've known beautiful people. I'm so grateful for this. No many words, everything has been perfect. See you soon! "
Lucia from Italy (Discover Lisbon IV)
"Best way to travel, meet new people and learn about Photography! Such an unique experience in an amazing atmosphere!
Thanks to the twins for this project!
It was awesome would definitely come back!"
Cem from Belgium (Discover Lisbon IV)
"I have only but the best to say about this year's edition of Discover Lisbon. Going in, I had no idea what to expect but the project exceed my expectations. What a unique way to travel, learn about photography, explore new places but most importantly meet new people and create amazing memories with them.I made friendships that will sure last for a lifetime. I took pictures that will not only be a reminder of the wonderful time I had during this project, but also use them at my portfolio. Thank you for the memories. Thank you for this opportunity and I only hope to see everyone again some day!
2019 ends in the most amazing way!"
Dimitra from Greece (Discover Lisbon IV)
"The experience with "Let me italian you" is an enriching experience, which we will take with us for life. It is a meeting between cultures, traditions, thoughts, different countries, with, in common, one thing: the passion for photography. This project creates an environment of comparison, encouragement and friendship, an international friendship! It's nice to meet people and establish a strong bond with them.. it's like being at home! And also it is an opportunity to improve the language but also the photographic ability! It is an experience that I recommend for everyone and that I will live again, for sure!"
Giulia from Italy (Discover Lisbon IV)
"Are some days that the experience ended and I'm still excited! It was amazing: I had a great time in Lisbon, I meet new people and now, I have new friends! I think that this kind of experience is an opportunity to discover new places and cities, meet new people and share with them the passion of photography: it was the first time that I do a lot of pictures and anybody says to me "stop". Gabry and Massi thank you so much!
You're perfect organisers and you've created a great thing: Let me Italian you!
See you soon in another "Discover"!"
Sonia from Italy (Discover Lisbon IV)
"It was a fantastic experience where I had the opportunity to meet new friends and beautiful places, we attented workshops lead by professional photographers and visited many typical areas of Lisbon. And the fantastic shooting with models! I was able to improve my photography skills and open my mind. A bit thanks to the the twins and all the participants of Discover Lisbon IV Christmas Edition."
Lorenzo from Italy (Discover Lisbon IV)
"It has been an extremely beautiful experience, you gave me the opportunity to visit a new place, to meet new people that now I can call friends. I haven't had so much since years, I really need an experience like that. So I want to thank Let me Italian you for this amazing experience, for showing me a fantastic city as Lisbon and its splendour; for introducing me new amazing people that now became my second family; thanks for all the fun we had together, for taking care me when I felt bad and for our crazy night talks. I miss you all! I hope to see you soon again and participate together to another Discover, it doesn't matter where but the only important thing is to be again together for new amazing moments!"
Mario from Romania (Discover Lisbon V)
"We lived such marvellous days, full of smiles that we exchanged to each other for the whole project, already from the first day we were so sad to separate because we only found fantastic people, a group that we can call "crazy" for all the crazy things that we have done together. THANKS FROM THE DEEP OF MY HEART to Gabriele and Massimiliano and to this crazy group. I hope to see you soon again!"
Iulia from Ukraine (Discover Lisbon V)
"Le cose belle arrivano lentamente e se ne vanno con le lacrime come questa nuova esperienza che mi rimarrà nel cuore. Mi mancherete. Siete stati formidabili. Spesso non sappiamo guardare lontano, perché ancora prima non abbiamo saputo guardare dentro di noi o vicino a noi come nel mio caso, cercavo in una stanza e invece non mi ero conto che avevo trovato molto più di una famiglia. Una cosa era già chiara a Lisbona avevo trovato una famiglia che poterò sempre nel cuore. Grazie a tutti siete stati una grande famiglia per me. Tra di noi c'era molta unicità di gruppo. La felicità, la pazzia ha portato avanti questo fantastico Discover Lisbon. Spero di rivedervi tutti un giorno.
I chose to be happy!"
Gabriele from Italy (Discover Lisbon V)
"Thanks a lot for this wonderful experience and for the patience.
I really hope that I will be able to participate to a new Discover very soon!
For now THANKS, THANKS, THANKS!"
Gioia from Italy (Discover Lisbon V)
"Maybe traveling during a global pandemic is not the wisest thing to do but it is a decision that I will never regret to have taken. During this photography course I have met fantastic people that I'll never forget, a group of people that shared my same passion for photography, I felt immediately myself with them and I even don't remember the last time when I had so much fun, the last time I felt so free, free to be myself without being afraid to be judged. Thanks Let me Italian you for organizing everything, making this project happen and I can't wait to join you again in a new Discover, I already feel the nostalgia. Thanks to all my travelmates: you made this experience unforgettable,
I miss you a lot!"
Marlena from Italy (Discover Lisbon V)
"Fantastic organizers, they let me appreciate even more my biggest passion. Be aware, I'll participate always to your project! This experience has changed me a lot: it has improved myself and my passion. I've met amazing people like you and this is the best part! Around the city, visiting beautiful thing, having fun and learning new things! An experience to repeat thousand of time!
Unique experience! Congrats (really), you are fantastic people!"
Giorgio from Italy (Discover Lisbon V)
"Wonderful adventure for people who are passionate about photography and love exploring new places.It was a true pleasure to be a participant in Lisbon's christmas edition.I'm grateful that I had an opportunity to meet so many lovely and talented individuals!
Big thanks to founders Gabriele and Massimiliano who put a lot of hard work and heart to create this unique project.
Can't wait to be the part of next one!"
Justyna from Poland (Discover Lisbon IV)
"Thanks! Really thanks for everything you have done and for let me feel part of a family again! For sure I'll take with me an amazing memory of each of you, but most of all the enthusiasm and smile that were always present in this project from the beginning till the end! I already miss you a lot and I can't wait for another Discover with all of you! And now that I am alone in the city, I can say that Lisbon is already by itself a fantastic city but you have made it UNIQUE!"
Daniele from Italy (Discover Lisbon V)
"The time I spent in Lisbon was simply amazing! Everything was well organized by Massimiliano and Gabriele and also the workshops were very nice, I've learnt a lot of new things thanks to the photographers Onésimo Costa and Ksenia Lutsenko! But the most exciting experience was the outdoor shooting with the local models! Thanks to LetMeItalianYou and to all the lovely people who took part to this project, see you soon!"
Emanuele from Italy (Discover Lisbon VI)
"I have travelled with Let me Italian You twice, two years ago to Krakow and more recently to Lisbon. It's such a great way to discover a new city and to spend time with others who stop at every corner to take pictures. Best of all you just have to show up an enjoy, everything has been planned and organised perfectly by the Italian twins."
Susan from Sweden (Discover Lisbon VI)
"Discover Lisbon 6 was the second trip made with LetMeItalianYou and I renew all the good things already said, probably adding even more compliments. Massimiliano and Gabriele are two amazing people who organize spectacular trips and deciding to leave with them is always the best decision! Lisbon is a magnificent city, full of light, food and colors, but living it with the group was a better experience. There were lots of laughs, smiles, looks, lots of words, discussions until late at night, with something to drink. I met beautiful people that I will carry in my heart! I recommend everyone to make this choice, pack their suitcase and start travelling with LetMeItalianYou, especially for the friendship you can create and for the wonderful experience you can live."
Valeria from Italy (Discover Lisbon VI)
"Discover Lisbon was an amazing experience under several aspects: group dynamics where really good! The organization was perfect, and simply Lisbon is a cool city. What else!?"
Flavio from Italy (Discover Lisbon VI)
"I have very much enjoyed these days in Lisbon, exploring the city and learning from professional photographers, along with a group of incredible people. As this is my second project with Massimiliano and Gabriele, I can confirm that participating to a LetMeItalianYou project is a synonym of fun, joy and continuous learning!"
Giulia from Italy (Discover Lisbon VI)
"Thank you letmeitalianyou for this another great experience! I've been in the first edition of discover Athens and this year I have decided to partecipate to Discover Lisbon. I immediately fell in love with the city thanks to the tours organized by Gabriele and Massimiliano. I also had the opportunity to improve my photography skills with the staged workshops and the shooting with the models. But the best thing was the time spent with the other participants and the new friendships I made during this project. So I seriously recommend this experience with the twins, because they are very friendly and helpful! Thanks Gabri and Massi, I hope to return soon!"
Veronica from Italy (Discover Lisbon VI)
"Ciao tutti! I participated in Let me Italian you- Discover Lisbon, and I will forever cherish this adventure. From beginning to end, I had so much fun exploring Lisbon, getting to know everyone in the group, and learning about photography. It was so much joy to be surrounded by such passionate, and fun people. Most importantly, thank you to Massimiliano & Gabriele, the most organized, kind, and chill duo I have ever met! Hoping to discover more cities in the future!"
Magdalena from Austria (Discover Lisbon VI)
"Ho partecipato alla 6ª edizione di Discover Lisbona…Non trovo le parole per descrivere questa esperienza perchè è andata oltre ad ogni aspettativa! È stato incredibile come, in così poco tempo si possa conoscere e creare legami con persone provenienti da diverse nazioni, con culture ed abitudini differenti!La cosa che più mi è piaciuta è stata che la fotografia si è mescolata alla gastronomia locale, alla storia e visita della città, per cui questo progetto ha incontrato le esigenze anche di chi non è molto appassionato della fotografia. Consiglio a tutti un progetto con Let me Italian you! È davvero per me stato un onore partecipare al vostro progetto! Io non vedo l'ora di partire per partecipare ad un altro progetto in un'altra città!"
Silvia from Italy (Discover Lisbon VI)
"Ho partecipato a Discover Lisbon e ne sono stata piacevolmente colpita! Massimiliano e Gabriele sono due persone fantastiche! Il progetto era ben organizzato, ho potuto sviluppare molte skills riguardanti la fotografia, sia tramite i workshop che tramite la condivisione con gli altri ragazzi che hanno partecipato al progetto! Anche i tour guidati sono stati molto interessanti!Consiglio a tutti un viaggio con loro, per conoscere nuove persone, imparare nuove abilità e alleggerire la mente!"
Greta from Italy (Discover Lisbon VI)
"Esperienza a dir poco fenomenale! Let me Italian you è un bellissimo progetto che prevede la scoperta di nuove cittá, collaborazione con enti e workshop di fotografia. Io mi sono divertita un sacco, ho imparato tante cose nuove e sono andata alla scoperta di Lisbona, città a dir poco incantevole Grazie mille ai twins per questa meravigliosa esperienza. Consigliatissimi! Non vedo l'ora di poter ripartecipare."
Laura from Italy (Discover Lisbon VI)
"This was my first experience with the Let Me Italian You project and I had the most wonderful time discovering Lisbon. I've met fantastic and very talented people, I've learned a lot and I can't wait to participate again! Thank you guys, I hope to see you soon!"
Monika from Poland (Discover Lisbon VI)
"È stata la mia prima esperienza con Let me Italian you ma non sarà l'ultima. Il tutto ha superato di gran lunga ogni mia aspettativa, sono rimasta piacevolmente sorpresa. L'organizzazione è stata impeccabile; i workshops e le visite guidate si sono alternate sapientemente al tempo libero. Ci siamo arricchiti tutti e abbiamo costruito nuovi legami con un buon umore che Massimiliano e Gabriele hanno contribuito a mantenere costante, grazie a un'attenzione encomiabile, che ha scongiurato qualsiasi possibile intoppo. Grazie e a presto!"
Francesca from Italy (Discover Lisbon VI)
"È stata un'esperienza bellissima e irripetibile! Avere la possibilità di conoscere persone di ogni posto del mondo accomunate da un'unica passione è una grande fortuna. Vi ringrazio tanto ragazzi, alla prossima!"
Agnese from Italy (Discover Lisbon VI)
"Are you bored with with life's routine? Do you want to do your favorite hobby with same like-minded people? or just need a simple vacation with very intense fruitful days? You need to contact LetMeItalianYou, they would handle the organizing part and you enjoy the ride. I joined for Lisbon discovery 6th edition and had one of the most lively days of my life with full of colorful feelings, beautiful open minded people with same passion. Thank you Gabriele and Massimiliano for creating such a lovely environment and caring about us all the moments!"
Ramin from Iran (Discover Lisbon VI)
"What a wonderful time I had in Lisbon. It was my first time participating. The group was so much fun, got to meet a lot of lovely people. The city is also very beautiful and thanks to "Rita the guide" I also learned a lot. The workshops were also very nice. What surprised me the most was that I really enjoyed photographing the models. It was amazing! Well organized by Gabriele and Massimiliano."
Silvia from Holland (Discover Lisbon VI)
"It has been an amazing experience. I've met people from all over the world, I made new friends and I discovered a new city.Once again, I just wanted to say thank you guys for such great experience: visitng Lisbon with all of you has been magical. Thank you twin for the opportunity you gave us: I returned home with one more big luggage not full of clothes but replete of memories,stories, bounds, experiences and friends from all over the world! I suggest to try this experience with Letmeitalianyou, these guys are super organized!"
Giulia from Italy (Discover Lisbon VI)
"It was my first experience with Letmeitalianyou and I had a wonderful time in Lisbon, 6th edition! I was pleasantly surprised by the organization and the experiences that Massimiliano and Gabriele allowed us to do. The workshop were very interesting and fun!! I visited a beautiful city and met so many wonderful people! I recommend to all this experience. Thank you guys, see you soon."
Francesca from Italy (Discover Lisbon VI)
"If you want to explore a beautiful city and country while being able to fully focus on photography and meeting new wonderful, like-minded people from different countries, I can recommend LetmeItalianyou! Besides having a fun trip you also learn a lot about yourself and your photography style, especially through exploring new areas of photography (like for me portraits). It was an amazing experience."
Anna from Austria (Discover Lisbon VI)
"Thank you so much for organisation and invitation to Lisbon!
I enjoyed very much to stay with you again!
Good vacation between those crazy days with corona!
And also happy to meet you both, again! I like you very much!
But I think it wasn't last time to see you!"
Liina from Estonia (Discover Lisbon V)
"Discover Lisbon è stata la mia prima esperienza con Let me italian you e devo dire che sono rimasta positivamente colpita sia dall'organizzazione - a dir poco impeccabile - sia dai progetti/workshop a cui abbiamo partecipato. Ho avuto modo di conoscere persone meravigliose e imparare nuove tecniche sulla fotografia. Quelli passati a LIsbona sono stati dei giorni intensi ma ricchi di novità e colori e non vedo l'ora di partecipare ad un loro prossimo progetto. Ringrazio Massi e Gabri che sono stati meravigliosi sia prima della partenza, sia durante il soggiorno in Portogallo. Consiglio vivamente a tutti Let me Italian you!!!"
Irina from Italy (Discover Lisbon VI)